Admission
Adult $10.00
Children $5.00
Family $25.00
Prices subject to change due to major events throughout the season

Times
Gates open at: 3pm
Racing starts at: 4pm
Times subject to change due to major events throughout the season
Our Links
Membership Application
Open day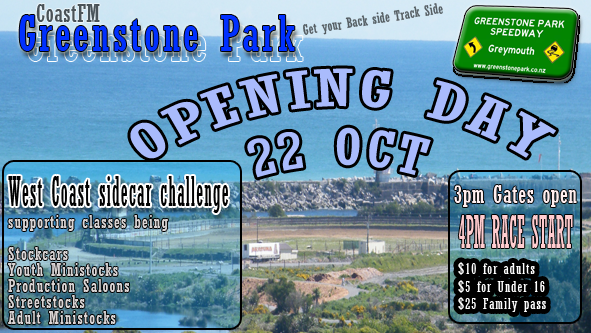 GREENSTONE PARK speedway would like to invite you all to our open day meeting the 22nd of oct,
West Coast sidecar challenge, with supporting classes being
Stockcars
Youth Ministocks
Production Saloons
Streetstocks
Adult Ministocks
With 7 sidecar's bound for our track this weekend, it going to be a Great family outing, come on down and watch some Great speedway action
Racing starts at 4pm, with gates opening at 3pm for fans. $10 for adults, $5 for Under 16, Pensioners, and students. Family pass available for 2 adults and 4 kids at $25. Bring mum dad and four kids, or two dads with two kids each to get the most out of this deal.
Sidecar List
2nz Kelman / Drake
7c Lang / Elliot
12c Ray / Nuttridge
19n DeGray / McKenzie
24c Lang / O'Donnell
61n Satherley / Satherley
95i Tree / Pubben
Practice #3
Due to Rain, this Practice has been moved to Sunday (16th) at 11am sharp, $5 per car, to go towards track licence, Money collector will catch up with you be for the practice starts

Rain out - practice #3 this saturday dont forget $5 per car to go towards track licence,the money collector will catch with you before the pratice starts

1pm start
Bathurst WINNER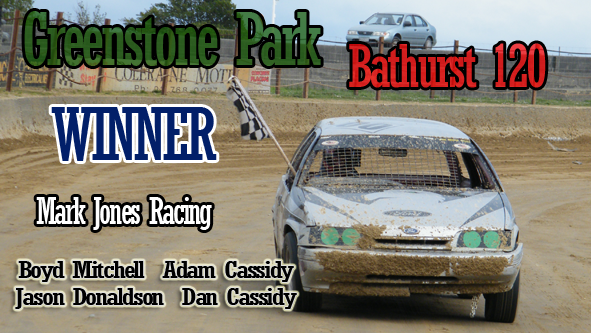 | | | | | | | |
| --- | --- | --- | --- | --- | --- | --- |
| Pos | Number | Teams | Laps | Race time | Fastest lap | Fastest time |
| 1 | 00 | Mark Jones Racing | 134 | 01:39:56.9760 | 131 | 0:22.6803 |
| 2 | 99 | The Fuzz | 129 | 01:40:16.8503 | 94 | 0:21.5602* |
| 3 | 24 | P B DAVY | 124 | 01:40:24.2342 | 123 | 0:22.1640 |
| 4 | 11 | WAMO | 118 | 01:40:09.5329 | 111 | 0:22.7715 |
| 5 | 32 | Whyte Racing | 117 | 01:40:09.4324 | 111 | 0:22.3226 |
| 6 | 18 | Green Team | 117 | 01:40:10.8979 | 117 | 0:22.8525 |
| 7 | 7 | Team Seven | 109 | 01:40:05.0859 | 104 | 0:22.3387 |
| 8 | 33 | Gremlins | 107 | 01:40:02.7320 | 72 | 0:21.7326 |
| 9 | 51 | Smash Gas | 104 | 01:40:21.1760 | 54 | 0:22.7667 |
| 10 | 88 | Team E-Quip 88 | 103 | 01:40:14.2357 | 60 | 0:21.9333 |
| 11 | 17 | Team L.A.W | 95 | 01:40:15.9382 | 88 | 0:21.6146 |
| 12 | 69 | Cable Layers | 94 | 01:40:02.7454 | 76 | 0:21.6306 |
| DNF | 38 | OAS Racing | 81 | 01:37:53.7678 | 46 | 0:22.6424 |
| DNF | 29 | IDUNNO | 69 | 01:34:58.1485 | 62 | 0:22.4914 |
| DNF | 4 | Team E-Quip 4 | 52 | 01:34:58.1485 | 37 | 0:24.2257 |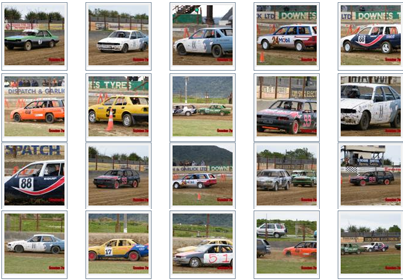 To view the photos from this event Please click on the images above and you will be taken to another website, where all our photos of all of our Greenstone Park photos are hosted, By Coastphotos.org
Qualifying Points Batburst
Qualifying points for Bathurst Endurance 120

With 14 Teams turning up For the Qualifying, with a wet track set to dry out by the end of qualifying, made for a good set of times
| | | |
| --- | --- | --- |
| Place | Team | Time |
| 1st | 99 The Fuzz | 23.04 |
| 2nd | 11 | 24.04 |
| 3rd | 24 P B DAVY | 24.09 |
| 4th | 17 TEAM L.A.W | 24.287 |
| 5th | 88 TEAM EQUIP | 24.289 |
| 6th | 33 GREMLINS | 24.38 |
| 7th | 69 CABLE LAYERS | 24.47 |
| 8th | 29 IDONNO | 25.19 |
| 9th | 51 SMASH GAS | 25.84 |
| 10th | 32 WHYTE RACING | 26.18 |
| 11th | 18 GREEN TEAM | 26.62 |
| 12th | 4 EQUIP TEAM | 27.03 |
| 13th | 38 OAQ RACING | 27.51 |
| 14th | 00 MARK JONES | 28.23 |
Bathurst image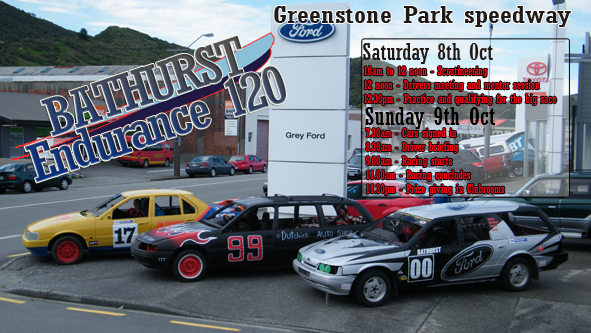 Saturday 8th October
 10am to 12 noon - Scrutineering
 12 noon - Drivers meeting and mentor session
 12.30pm - Practice and qualifying for the big race
Sunday 9th October
 7.30am - Cars signed in
 8.30am - Driver briefing
 9.00am - Racing starts ... the Green flag drops!
 11.00am - Racing concludes ... Chequered flag for the winner!
 11.30pm - Prize giving in Clubrooms
Speedway action this weekend:
SATURDAY - FREE ENTRY TO THE PUBLIC

SUNDAY - PUBLIC ADMISSON PRICES: $5 PER ADULT, UNACCOMPANIED CHILDREN $5, ACCOMPANIED CHILDREN FREE
Copyright and Thank You
All images and information are copyright to there owner's
The club would like to thank A.J.(Drew) Hamblyn for the many years spent on running the old website, what a great effort you done for us all, a big Thank you to everyone that has helped out to keep the club going, all members and non-members who have helped out in the off season to make the club run, and to everyone who made our meetings great fun every time, Thank you
Annoncer