Admission
Adult $10.00
Children $5.00
Family $25.00
Prices subject to change due to major events throughout the season

Times
Gates open at: 3pm
Racing starts at: 4pm
Times subject to change due to major events throughout the season
Our Links
Membership Application
News letter v3
The new News letter is out click link below to view it
News letter
29laps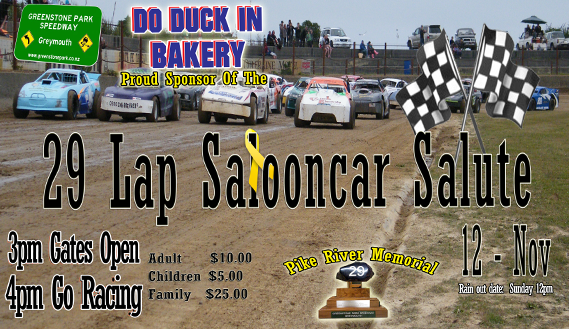 Driver list to date
Daryl Ainsley
5T
Daryl Martin
14E
Mark Pengelly
15E
Paul Cambie
27E
Paul Power
43Y
Gary Shaw
44D
Steve Robertson
55T
Walter Whittleston
75C
Daniel Flood
82E
Robert Flood
791E
Shane Scott
47E
Next Committee meeting Monday 31th
Next Committee meeting Monday 31st of october
Saloon and South island stockcar
Hey guys,
Here are the downloads for the south island stockcar champs
and the saloon car salute
South island Stockcar Champs
Saloon Car Salute
Click the links to download full them out and email them back to promoter@greenstonepark.co.nz
Open Day 22 Oct 2011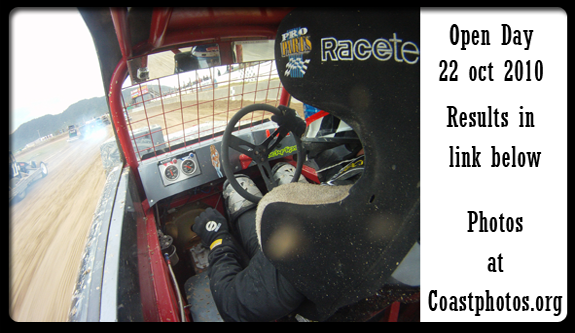 Results are HERE!
Great Day's worth of racing, with Sidecar's making there way from Chch and Nelson, 12 stockcars putting on a good show with Hadleigh smith taking out the win of the car With shane Olsen right behind him taking out 2nd,
Youth ministocks had a small class of only 4, but was Great to see them out there doing some laps and getting new skills for when they ready to go up a class
Streetstocks put on a very nice class. With Brendan Mumberson first meeting in the streetstock class showed that he has the pace to take on the rest coming home in 2nd over all. with peter arnesen showing his skill in the class taking out the WIN for the meeting,
11 ministocks on pace showing how its done with Jason McConnell taking out the win and Dave houston Jnr coming in a close 2nd place and Sean brown round out the top 3,
was a Great day weather held off enough to get some dirt time lets get this season going!
Copyright and Thank You
All images and information are copyright to there owner's
The club would like to thank A.J.(Drew) Hamblyn for the many years spent on running the old website, what a great effort you done for us all, a big Thank you to everyone that has helped out to keep the club going, all members and non-members who have helped out in the off season to make the club run, and to everyone who made our meetings great fun every time, Thank you
Annoncer