Admission
Adult $10.00
Children $5.00
Family $25.00
Prices subject to change due to major events throughout the season

Times
Gates open at: 3pm
Racing starts at: 4pm
Times subject to change due to major events throughout the season
Our Links
Membership Application
Day 1 south islands
What a Great first day of the south islands stockcars

results can be found on the south island stockcar page, in the nav bar above,

Remember, Gates open at 3pm tomorrow, racing starts at 4pm,

Adults $15, kids $5 and family $35


South islands weather update
Weather update for the 9th of dec, 2011,
ITS SUNNY!
with a we bit of wind,
Make sure you bring the sunscreen
Click the photo link befor to check out a photo of the track that was taken at 11am this morning
Photo
South island Stockcar Champs
To find more information about the south island stockcar champs, please click the south island stocks link in the links bar above,
all results from friday and saturday for the stockcars will be listed on that page,

Thank you.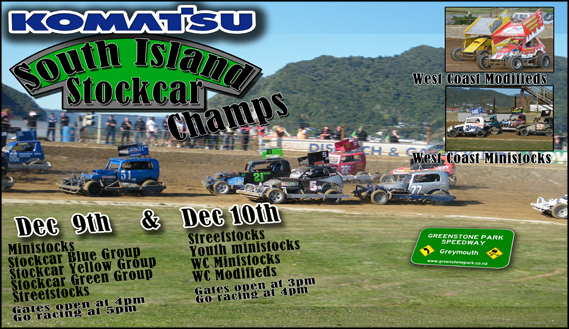 GATE PRICES:
Friday Adults $10, kids $5 and family $25

Saturday Adults $15, kids $5 and family $35
19thnov
Saturday 19th November
Club day
1pm Gate Open
2pm Go Race

$5 entry for drivers, crew and spectators
Saloon winners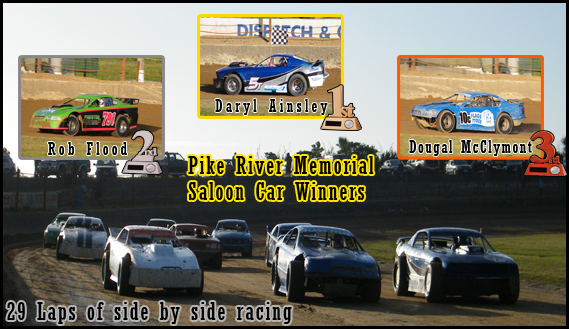 After 29 laps of side by side racing, the winners of the Pike River Memorial are
1st 5T Daryl Ainsley
2nd 791E Rob Flood
3rd 10C Dougal McClymont
4th 82E Daniel Flood
5th 51C Walter Whittleston
6th 44D Garry Shaw
7th 999D Evan Powell
Well done to everyone that turned up to give it a go at taking home the Memorial cup,
we look forward to seeing everyone and More back next year,
Big Thanks to all saloon drivers.
Daryl Anisely
Dougal McClymont
Daryl Martin
Mark Pengelly
Paul Gamble
Paul Power
Garry Shaw
Shane Scott
Steve Robbertson
Walter Whittleston
Daniel Flood
Rob Flood
Evan Powell
All photos from the days event can be found at
coastphotos.org
Dont forget to check out our facebook page
Here
Results from the day's racing are under the review/results page
Copyright and Thank You
All images and information are copyright to there owner's
The club would like to thank A.J.(Drew) Hamblyn for the many years spent on running the old website, what a great effort you done for us all, a big Thank you to everyone that has helped out to keep the club going, all members and non-members who have helped out in the off season to make the club run, and to everyone who made our meetings great fun every time, Thank you
Annoncer