Admission
Adult $10.00
Children $5.00
Family $25.00
Prices subject to change due to major events throughout the season

Times
Gates open at: 3pm
Racing starts at: 4pm
Times subject to change due to major events throughout the season
Our Links
Membership Application
Next Year
** MUST READ ** ** NO FIREWORKS OR SI MODS ** this year



Dear Greenstone Park Speedway Fans and Drivers.

NO SPEEDWAY THIS SATURDAY,
Reasons been ALL SNZ refs, are at a meeting in chch on the Saturday and Sunday, What dose this mean for us, as a SNZ member we need SNZ refs at our track to even put wheels on clay, this is for safety and many other reasons, because they are at a meeting we can not race any race at all.

Sadly we can not control this at all.
so this means FIREWORK and the New World South Island Mods will have to be pushed back to another date in the new years, Sadly we feel as a club there would not be away to run another meeting before the end of year, with Nelson and chch ruining there Xmas and New years meetings we dont wanna clash with there meetings.

No date Yet has been set for the Fireworks Or the New World south island Mods, so keep an eye out for this

Have a Merry Xmas and a Happy New year from all of us at Greenstone Park Speedway

Thanks,

No fireworks
Sorry Racefans.

The weather man is right today and it is raining and the forecast is not looking any better for this evening so we have decided to pull the meeting.
😭😭😭😭😭 Sorry and we are all disappointed.

Keep an eye on here for when this meeting will be held possibly next Saturday
ISMODSFIREWORKS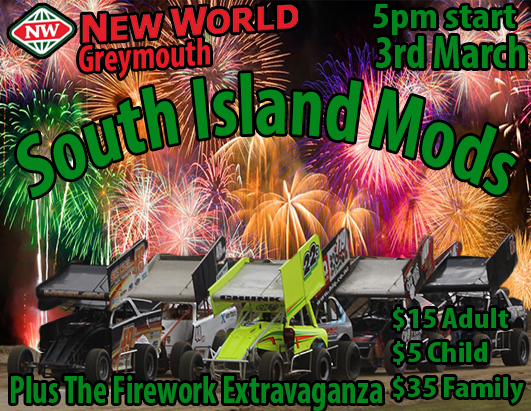 New World Greymouth South island Mods
Plus The Greenstone Park Fireworks Extravaganza
This year see's the running of the New World Greymouth South island mods at Greenstone park speedway
with cars from all over the south island and a good number of local drivers,
Other classes racing
Stockcars
Streetstocks
TQ
Adult Ministocks
Youth Ministocks
Productions
With this been a Fireworks Meeting the racing will start a little bit later on,
6pm
$15 Adult
$10 Child
$40 Family
( SI MOD Entry form is now online )
( This can now be found in our Entry forms & Downloads Above)
Production saloons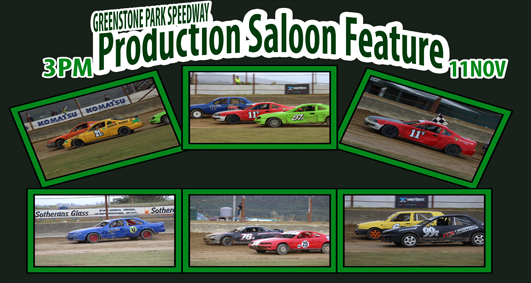 Production Saloon Feature/Open meeting/Bathurst 120 11 Nov
This weekend Greenstone Park are hosting the Production saloon Feature event,
With Local and Many away drivers making this event a Must watch
(Practice for Bathurst 120 at 3pm, then race after normal Production Meeting)
"Production Saloons: Another excellent entry-level class, based
on a modified road going or "Production" vehicle under 4 litres,
with no contact allowed. A wide variety of makes and models
are competitive in the category, both front wheel and rear wheel
drive. "
Gates open at 3pm
racing at 4pm
Adult $10.00
Children $5.00
Family $25.00
again rain wins
Sorry race fans our opening meeting is once again been postponed because of the last 24hours of rain and more due to come this afternoon and as you can see the track and infield is very wet!


Fingers crossed for good weather next weekend 11th Nov for Bathurst and Production Saloon Feature meeting.
Copyright and Thank You
All images and information are copyright to there owner's
The club would like to thank A.J.(Drew) Hamblyn for the many years spent on running the old website, what a great effort you done for us all, a big Thank you to everyone that has helped out to keep the club going, all members and non-members who have helped out in the off season to make the club run, and to everyone who made our meetings great fun every time, Thank you
Annoncer