Admission
Adult $10.00
Children $5.00
Family $25.00
Prices subject to change due to major events throughout the season

Times
Gates open at: 3pm
Racing starts at: 4pm
Times subject to change due to major events throughout the season
Our Links
Membership Application
Bathurst 2014
Greenstone Park Speedway Presents: Bathurst Endurance 120
The "Bathurst Endurance 120" is a two hour endurance race for pre loved Holden and Fords battling for the
inaugural Bathurst Endurance 120 trophy, raced at Greenstone Park Raceway. Four drivers are required for
each team, with each driver to complete a minimum of 30 laps.
Entry form & Other info Here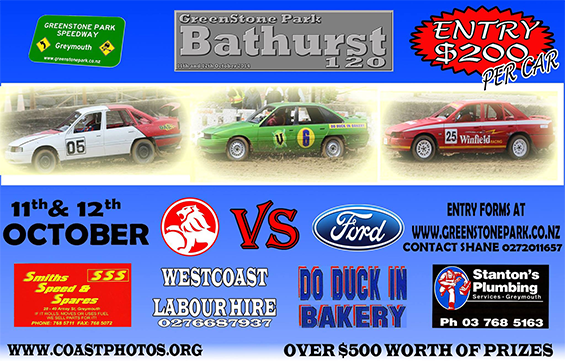 AGM
AGM is coming up on the 20th of August 7.30pm in the clubrooms. Any General Business for the agenda needs to be given to Robbie Brown prior. Please come and support your club
Prize giving



Prize Giving Saturday 28th of June - Union Hotel 7pm



(Can all current trophy holders return their trophies to Sotherans Glass)


Sponsors day has been postponed till next season




Postponed
Sponsors day today was been postponed. New date to be advised.
Sponsors Day
Sponsors Day
17th May, all cars to be at track at 11am, racing from 12pm to 2.30pm $40 day licence

Prize Giving
Trophies are to be returned from last years winners to Sotherans Glass - 33 Lord St Greymouth


-
Copyright and Thank You
All images and information are copyright to there owner's
The club would like to thank A.J.(Drew) Hamblyn for the many years spent on running the old website, what a great effort you done for us all, a big Thank you to everyone that has helped out to keep the club going, all members and non-members who have helped out in the off season to make the club run, and to everyone who made our meetings great fun every time, Thank you
Annoncer