Admission
Adult $10.00
Children $5.00
Family $25.00
Prices subject to change due to major events throughout the season

Times
Gates open at: 3pm
Racing starts at: 4pm
Times subject to change due to major events throughout the season
Our Links
Membership Application
DHL Saloons
The Hits Westcoast Greenstone Park Speedway With Do Duck In Bakery would like to invite you to the 29 Lap Memorial Race with the DHL Saloon Speedweek & West coast TQ champs
Sunday the 30th
Gates open 3pm
Racing at 4pm
Adults $15
Child $5
Family $35
27 Saloon car's 29 Laps.
With Drivers like
1NZ Chris Cowling
3NZ Nigel Ross
21H Steve Williams (The Chaddy Himself)
and loads more drivers from all over new zealand make there way to Greenstone Park speedway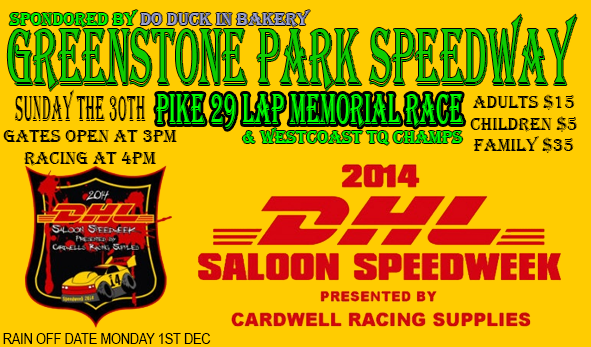 (Rain off date Monday 1st dec)
Action this Saturday
Gates open at 3pm
Racing at 4pm
Get your backside Track side this Saturday for a Action packed meeting,



.
This weekend of speedway
The Greymouth Grizzlies are taking on a strong Tasman Thunder team this Saturday, who after making the Semi Finals of the NZ Stockcar Teams champs are currently the top team in the south island. At least, that was the attitude the Thunder bought to Greenstone Park late last season, only for the form book to be tipped on its head after an outstanding blocking performance from Brian Hahn, allowing Tony Stanton to sneak through for the win.


The thunder are bringing down a very strong team of


81N Shane Brooks
82N Liam Smith
83N Justin Hearne
84N Micheal Paynter
85N Phil Krammer
86N Adam Hall



The Thunder always bring out and out pace, and if there opening weekend is anything to go by will also bring a full contact smash em approach, with the teams cars attacking anything that moved The Grizzlies will have there work cut out for them, but with an established team of



33gm Tony Oliver
34gm Andy Wright
35gm Dave Houston Jnr
37gm Hadleigh Smith
38gm Tony Stanton
39gm Brian Hahn




Will be prepared for an all out battle for teams supremecy. With additional cars traveling over from CHCH up to 20+ stockcars will be on track for consolation races making this weekend one not to be missed.
Open Day Labour Weekend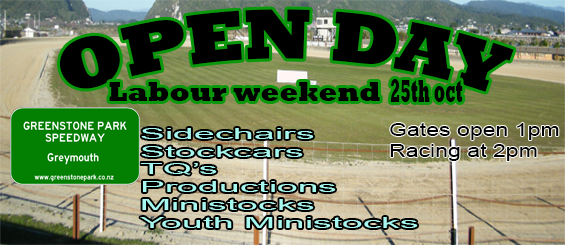 Adult $10.00
Children $5.00
Family $25.00
Get your Back side Track side, for the best motor sport on the west coast
sigin night
Attention all drivers: Sign in night has been set for Thursday the 18th of September at 7.30pm at the clubrooms. Club membership is unchanged at $60 for adults and $25 for youth. SNZ licences are $190 for adults and $100 for youth. See you there
Copyright and Thank You
All images and information are copyright to there owner's
The club would like to thank A.J.(Drew) Hamblyn for the many years spent on running the old website, what a great effort you done for us all, a big Thank you to everyone that has helped out to keep the club going, all members and non-members who have helped out in the off season to make the club run, and to everyone who made our meetings great fun every time, Thank you
Annoncer