Admission
Adult $10.00
Children $5.00
Family $25.00
Prices subject to change due to major events throughout the season

Times
Gates open at: 3pm
Racing starts at: 4pm
Times subject to change due to major events throughout the season
Our Links
Membership Application
Open Day Labour Weekend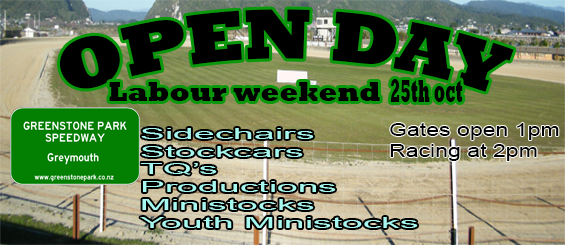 Adult $10.00
Children $5.00
Family $25.00
Get your Back side Track side, for the best motor sport on the west coast
sigin night
Attention all drivers: Sign in night has been set for Thursday the 18th of September at 7.30pm at the clubrooms. Club membership is unchanged at $60 for adults and $25 for youth. SNZ licences are $190 for adults and $100 for youth. See you there
Thanks From Hadleigh Smith
Hi Everyone. At this year's AGM I (Hadleigh Smith) stood down as Promoter of Greenstone Park Speedway after 4 seasons of service. I would like to thank the committee for their support, particularly the executive of Robbie Brown, Glenda McMinn and Amanda Oliver. Personal Highlights over this period included raising funds for the new safety fence, successfully raffling of a stockcar, hosting the NZ Stockcar GP, and being a part of the team that committed to and built a new Clubrooms, and subsequently redeveloped our Pit Areas.

This has been a major job for the committee and club, and one we should all take real pride in. Originally the dream and driving force of Ian and Mary Ann Whyte made this possible, and the committee bought into it, and remain committed to completing the clubrooms potential. One thing I am particularly proud of is the friendly, open, welcoming attitude at Greenstone Park Speedway that keeps our visiting drivers and fans coming back. The thanks for this belongs to all our volunteers, officials and club members, and long may it continue. I'm sure the returning promoter Ray Parkinson and the returning committee will continue on in this vein in 2014. For contact with the new committee check out our website in the comming days

Thanks especially to all the visiting drivers over the last few years for your support, and see you during this race season. I look forward to putting more time into the race car, family and work!
Bathurst 2014
Greenstone Park Speedway Presents: Bathurst Endurance 120
The "Bathurst Endurance 120" is a two hour endurance race for pre loved Holden and Fords battling for the
inaugural Bathurst Endurance 120 trophy, raced at Greenstone Park Raceway. Four drivers are required for
each team, with each driver to complete a minimum of 30 laps.
Entry form & Other info Here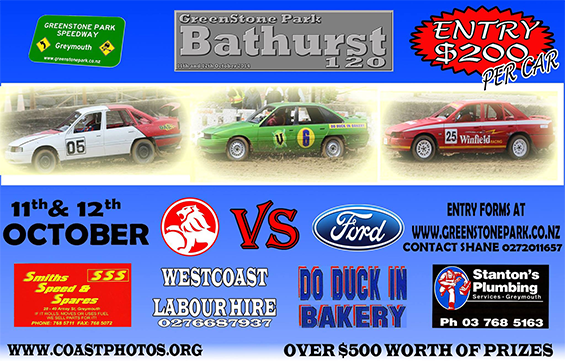 AGM
AGM is coming up on the 20th of August 7.30pm in the clubrooms. Any General Business for the agenda needs to be given to Robbie Brown prior. Please come and support your club
Copyright and Thank You
All images and information are copyright to there owner's
The club would like to thank A.J.(Drew) Hamblyn for the many years spent on running the old website, what a great effort you done for us all, a big Thank you to everyone that has helped out to keep the club going, all members and non-members who have helped out in the off season to make the club run, and to everyone who made our meetings great fun every time, Thank you
Annoncer