Admission
Adult $10.00
Children $5.00
Family $25.00
Prices subject to change due to major events throughout the season

Times
Gates open at: 3pm
Racing starts at: 4pm
Times subject to change due to major events throughout the season
Our Links
Membership Application
Till Next year,
The Jim Bradford TQ Memorial Champs on the 20th of December has been canceled and this event all take place at another time (TBA) next year, (The meeting will not be going ahead, no more racing till next year)
see you all next year on the 24th of Jan


Merry Xmas, and Happy New year,

Results
DHL salooon meeting and Do Duck Bakery Pike River memorial 29 lap race.

1st 3NZ Nigel Ross.
2nd 1NZ Chris Cowling.
3rd 271 Steve Cowling.

A big thank you to Alesha Osborne for singing the national anthem and to all those involved in organizing a great meeting.


West Coast tq champs.

1st Jeremy Webb.
2nd James Thompson.
3rd Lindsay Bailey.

Thank you to Yvonne from The Barber Shop for your sponsorship.

All points and results are online under Race events
Letter From DHL to Greenstone Park
To Greenstone Park Committee,

On behalf of all the drivers,crews,family's and organizers thanks for hosting round 3 of the DHL Saloon Speedweek.It was obvious a lot of effort went into the track preparation this was greatly appreciated by the drivers.The Pike River 29 Lap Memorial is a special event on the speedway calender we appreciate the clubs efforts in making it a memorable day for all.
Please pass on our thanks to the Do Duck In Bakery for sponsoring the event and also to the girl who sang the national anthem.

We hope you will look favorably at hosting a round in 2015.

Kind Regards,

Steve Williams
Promotor
www.dhlspeedweek.co.nz
Alot of Rain cant hold us back
30-11-2014 - RACING UPDATE, tracks looking good, weather holding off. lets drop the flag at 4pm today, get your back side track side for the DHL Saloon Series & Do Duck in 29lap Pike River Memorial Race and The Barber Shop West coast TQ champs


DHL Saloons
The Hits Westcoast Greenstone Park Speedway With Do Duck In Bakery would like to invite you to the 29 Lap Memorial Race with the DHL Saloon Speedweek &
West coast TQ champs Sponsered by The Barber Shop
Sunday the 30th
Gates open 3pm
Racing at 4pm
Adults $15
Child $5
Family $35
27 Saloon car's 29 Laps.
With Drivers like
1NZ Chris Cowling
3NZ Nigel Ross
21H Steve Williams (The Chaddy Himself)
and loads more drivers from all over new zealand make there way to Greenstone Park speedway
(Rain off date Monday 1st dec 2pm start)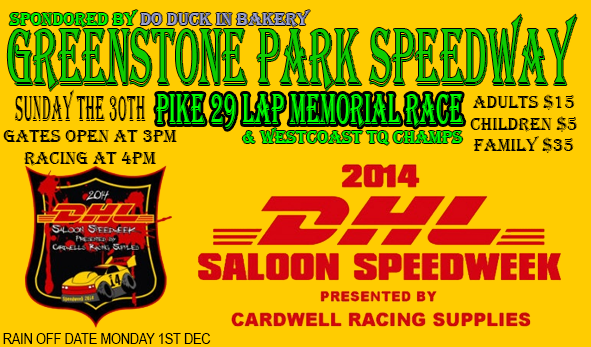 Copyright and Thank You
All images and information are copyright to there owner's
The club would like to thank A.J.(Drew) Hamblyn for the many years spent on running the old website, what a great effort you done for us all, a big Thank you to everyone that has helped out to keep the club going, all members and non-members who have helped out in the off season to make the club run, and to everyone who made our meetings great fun every time, Thank you
Annoncer