Admission
Adult $10.00
Children $5.00
Family $25.00
Prices subject to change due to major events throughout the season

Times
Gates open at: 3pm
Racing starts at: 4pm
Times subject to change due to major events throughout the season
Our Links
Membership Application
TQGP Open clubs
NZ TQ GP
Greenstone Park Speedway Open Club Champs.

Stockcars
Streetstocks
Mods
Ministocks(Youth & Adult)
Productions
TQs


(TQ GP Entry list)(Updated 22/02)
NZ TQ GP
Rodney Thompson 28gm
Michael Moulin 63c
Morgan Frost 57n
Ryan Coll 7gm
James Thompson 82gm
Kyle Glover 16c
Brett Booth 72c
Luke Dilworth 17n
Liam McCoubrey 14c
Ben Morgan 84c
Cameron McKenzie 46gm
Montana Jamieson 17c
Jeremy Webb 1nz
Darkie Armstrong 7n
Tyler Warnock 33c
Dylan Bensemann 23n
Shane Robertson 4n
George Crosbie 49n
(If u can not make it, Or your name not on the list(Late entry's welcomed), Please message Brandon Parkinson)

3pm Gates open
4pm Race starts

$35 Family (2 adults 4 kids)
$15 adult
$5 Child
TQGP1
Due to Heavy Rain last night/This morning, The NZTQ GP has been cancelled
Rain out date is set for next weekend the 24th
The track is a mess, its flooded even if the sun did come out it wouldn't be race-able
SMH Mobile Hose Serives Bring you
The New Zealand TQ Grand Prix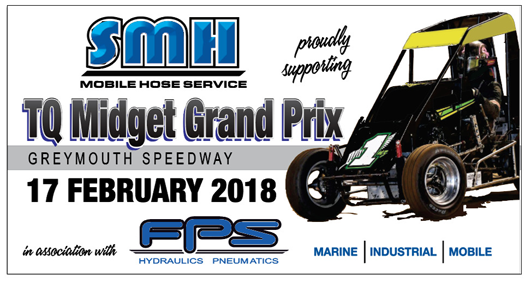 17Th Feb 2018
Greenstone Park Speedway Greymouth
SMH Mobile Hose Services
NZ TQ GP
17 - Feb
$15 Adult
$35 Family
$5 child
(Eftpos At Gate/track now)
Gates open at 3pm.
Racing 4pm
(Tip road is closed, May need to enter at bottom pits, will have more info on this before saturday)
Efpose
Current entry list, (2nd edit) (Monday Night)
Jeremy Webb 1nz
Rodney Thompson 28gm
Michael Moulin 63c
Kimberley Yeatman 12c
Morgan Frost 57n
Ryan Coll 7gm
James Thompson 82gm
Kyle Glover 16c
Alicia McLauchlan 6n
Brett Booth 72c
Luke Dilworth 17n
Liam McCoubrey 14c
Ben Morgan 84c
Cameron McKenzie 46gm
Montana Jamieson 17c
Darkie Armstrong 7n
Jayden Corkill 66n
Gavin Chapeell 5c
Tyler Warnock 33c
If we have 2 cancel it will be made on our facebook page NOT befor 10AM
---------------------------------------------------
Meeting on the 3rd of Feb has been Canceled
Reason for this is as fallows.
A large number of Committee members & SNZ members are away
A large number of drivers are away at the NZ superstock teams meeting,
We are sorry to all who do wish to race that weekend but sometimes we are unable to help what happens
We do try our best as a club to run all meetings set out in the calendar
-----------------------------------------
LIVE streaming Superstock Teams Champs Qualifying/finals.
Getting a sign of interest
As the Meeting on the 3rd has been canceled the club is wanting to get a sign of interest in opening up the club rooms/Bar on the Saturday night and live streaming the Teams Champs Qualifying
there will be a Cost of entry
if there is enough interest also could stream the finals on the Sunday night also.
Thanks.
Derby IMAC 2018
Derby 2018 Winner
Sarah Bellis





I*M*A*C
Industrial Marine And Commercial Metal Recovery




2018 Derby




20th of Jan 2018
IMAC Derby
Gates open at 3pm
Racing at 4pm
Derby at end of Normal race meet


**********
Derby Entry form can be found Under downloads above
Entry fee $40
Day licence if needed $60
**********
New year, Back to the track
Happy 2018
with that out of the way lets get our season back on track,

This Saturday 6th,
Modified sprints
Stockcars
Streetstocks
TQ
Ministocks
Youth Ministocks
Production saloons


Gates open at 3pm
Racing starts at 4pm

Keep an eye on our facebook page for Weather updates (incase you know)

What more could you ask for in a days racing,
so what are you waiting for.
get your back side track side

(mods on stand down)
Next Year
** MUST READ ** ** NO FIREWORKS OR SI MODS ** this year



Dear Greenstone Park Speedway Fans and Drivers.

NO SPEEDWAY THIS SATURDAY,
Reasons been ALL SNZ refs, are at a meeting in chch on the Saturday and Sunday, What dose this mean for us, as a SNZ member we need SNZ refs at our track to even put wheels on clay, this is for safety and many other reasons, because they are at a meeting we can not race any race at all.

Sadly we can not control this at all.
so this means FIREWORK and the New World South Island Mods will have to be pushed back to another date in the new years, Sadly we feel as a club there would not be away to run another meeting before the end of year, with Nelson and chch ruining there Xmas and New years meetings we dont wanna clash with there meetings.

No date Yet has been set for the Fireworks Or the New World south island Mods, so keep an eye out for this

Have a Merry Xmas and a Happy New year from all of us at Greenstone Park Speedway

Thanks,

Copyright and Thank You
All images and information are copyright to there owner's
The club would like to thank A.J.(Drew) Hamblyn for the many years spent on running the old website, what a great effort you done for us all, a big Thank you to everyone that has helped out to keep the club going, all members and non-members who have helped out in the off season to make the club run, and to everyone who made our meetings great fun every time, Thank you
Annoncer